* Ugghh....Blogger has been driving me CRAZY all morning!
** Scroll down for the My Little Shoebox blog hop...you won't want to miss that one too! :)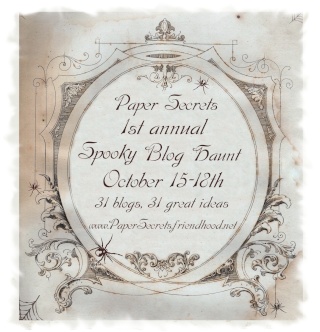 Hi all! Welcome to the first ever Paper Secrets Spooky Blog Haunt. If you are just popping in, why don't you start the hop
here
. If you have come from
Tina
, then you are in the right place. This is also my Friends with Flair post for the day. You can see the whole list of FWF blogs on the
Unity blog
.
So we are all sharing Halloween projects with you today. I have some treat bags to share with you...one for each of my kids.
The letters are for their names. :) Those skeletons are from the Bones About Halloween stamp set from
Unity
. I actually already had them all stamped and put together because of this project. I had originally planned on making a banner, but then after I made several skeletons, I changed my mind, so I used the rest of them on these bags. I couldn't put a skeleton on Eryn's...she needed something more cute, so I put that little cute monster on her's. Here are each of the bags individually:
There are prizes you can win for leaving comments on all the blogs in the haunt...make sure you check out that info
here
, but I will also be giving away something here on my blog. It's not Halloween....it's Christmas...
That is the "Merry Christmas" line from
Echo Park
. If you won this, then you could sign up for the
Christmas blog hop
and participate in that! :)
How to win:
1. Leave a comment on this blog post. All comments will be entered in to win.
2. Be a follower for an EXTRA chance at the prize. Sign up to "follow" the blog and then leave ANOTHER COMMENT telling me that you signed up. Already a follower? That's ok...just leave me another comment telling me that you already follow. :)
3. I will draw a winner on Tuesday Oct. 19th.
Ok...now it's time to hop on to
Brittney
.
Have a fantastic day!!!