I'll just come right out with it...
today I am giving away digital scrapbooking software!!!
:)
My Memories
is a wonderful company that sells both software and digital kits for scrapbooking. They also do photobooks. Their
My Memories Suite Scrapbook software
is an award winning software that is rated #1 by Amazon and TopTen Reviews.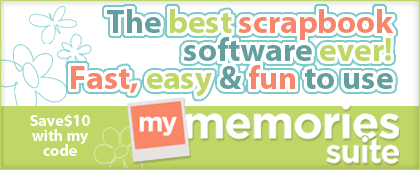 They contacted me a little while ago and asked me to do a giveaway and a review of the product on my blog. My review is honest and my own opinion. You can scroll down to see it. But first...
One lucky person can win this software today!
HOW TO WIN:
2. Come back and leave me a comment telling me which one is your favorite (kit or layout in gallery).
3. You can get an extra entry by spreading the word...on your own blog, on a message board or on a facebook or twitter page, just post about it then come back and leave me another comment with a link to your post.
Pretty simple. :)
MY REVIEW:
I am SO not a digital person. It takes me a long time to figure out how to do things and I often will get frustrated first. Using My Memories Suite Scrapbook software was very simple. It comes with a bunch of papers and embellishments already. And their site has a lot to offer too. I started working on my page and couldn't figure out how to add another paper on top of my paper I was using as a background. So I headed over to their blog and found a whole bunch of tutorials on how to do things, so that's nice. It looks like you can also get the tutorials emailed to you which I thought was cool. They have a bunch of templates and it seems they really push those. It certainly does make digital scrapbook easy! And the templates you can still manipulate and change it up. As with any program it will take a little bit to learn how to do things, but I promise that this program is pretty easy. I sat down in one afternoon and played around and made the layout above. It didn't take too long to learn how to do things, and when you need help, there is help available. :) Before I had my Mac and Photoshop CS3, I had another program that was very similar to this and I think I paid $90 for it. So this program for $39.97 is a great deal (and you can get it for less, just keep reading). The only thing I didn't like was that in order to rearrange your layers (bring some elements forward and move some back in your layers) you had to click on the image (which could sometimes be hard to click on because the computer thought I was clicking on another element) and then bring forward or backwards, which sometimes meant you had to do this with several different elements before you got it where you want it. But I remember having the same problem with my old program. Overall, I really think it is a good, easy program for any digital scrapbooker, but especially for those just starting the hobby. :)
The bottom line: any new software will take time to learn how to do things. This software has a lot of options for digital scrapbookers and makes it pretty easy. And it is certainly A LOT cheaper (less than $40) than Photoshop or similar programs.
Now here's the great part, even if you don't win the giveaway or if you want it right now....I have a special for you! :)
Just copy and paste the code then add it in the promo code section when you check out.
Digital scrapbooking can be fun! Hope you try it out!
Have an AWESOME day! I will draw a winner on Friday. :)